My name is Colleen Berger and although I was born in New Jersey, I have lived in Northern Kentucky since 1987. I spent my childhood years between New Jersey and Connecticut. I married a fellow from Maryland and set up home in Prince Georges County just outside of Washington D.C. As a young mother of four, in 1985, I chose my profession. Understanding that family and home are important factors to happiness, my desire was to assist people in establishing their home. My objective is your comfort. When one feels comfort, they feel confident in their decisions and direction. My purpose is to move houses and make homes.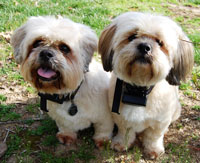 A job transfer for my husband brought our family to Northern Kentucky. Now, Northern Kentucky is home to my four grown children and their families. My treasures are my ten grandchildren who call me Gigi. I have two wonderful canine buddies at home that greet me each day when I come home-Reese and Chip. They are Llasa Apso brothers. My husband and I rescued them in December of 2008 and they are precious.
My personal interests are the Food Network Channel , travel and reading. Much of my travel now includes visiting special eateries featured on the Food Network Channel. If I had to choose one place in the world as my favorite, it would have to be Hilton Head South Carolina. My favorite author, Nicholas Sparks.
The four cornerstones of my business are knowledge, integrity, care and professional excellence. My committed sales team work together providing our clients the highest level of care, counsel and service. It's obvious to see, we love our profession!